Challenges – Milk Business Without Delivery Management Software
As a business owner, you might be thinking of hiring the services of an online shop for milk delivery. But before you make any decisions, there are certain things that you should keep in mind while choosing your milk delivery management software.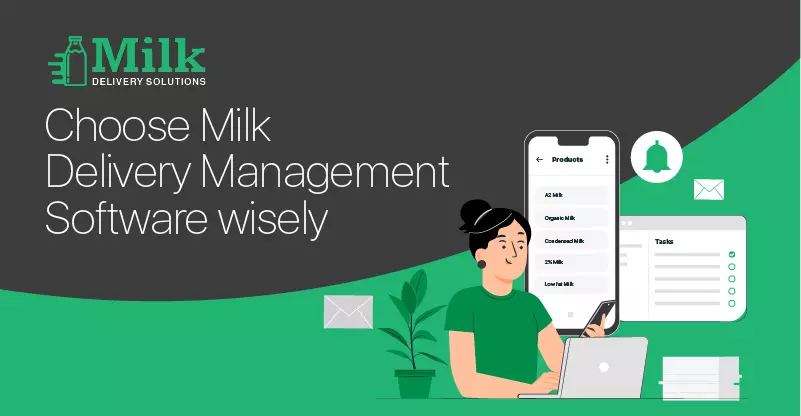 The first thing that you should check is whether or not the software is compatible with the OS of your smartphone and tablet. This will ensure that all operations can be completed smoothly without any glitches.
You should also make sure that the milk delivery management software is compatible with your POS system or point-of-sale terminal if you already have one installed at your establishment. For example, if you use Shopify as your e-commerce platform, then it is advisable to go for a different milk delivery management software because it's unlikely to be compatible.
What are some benefits of Milk Delivery Management Software?
Milk Delivery Management Software is a very powerful tool for dairy businesses. It helps in reducing the time and energy spent on administrative tasks while also increasing efficiency. 
Here are some benefits of Milk Delivery Management Software
You can receive daily updates on your dairy farm.

All information is available at any time and from any location.

Increasing capital and labor productivity.

You can distinguish between top-performing assets and non-performing assets.

Bridging the demand-supply chasm
Increase your milk delivery business's
ROI
Automate complete delivery process &
save the extra costs.
How do I choose the right one for my company?
You need to know what your requirements are and then find a system that will be able to fulfill those needs. You should also take into consideration how easy it will be for your team
Milk delivery software is an important part of any dairy's operation. But choosing the right one is not easy. You can't just pick the first one that you come across – you need to look at the features it offers and make sure that they are tailored to your needs.
A milk delivery management system should be able to handle all aspects of delivering milk, including scheduling deliveries, generating reports, correcting driver routes, and more. It should also be affordable for your company so that it doesn't put a strain on your budget or force you to give up other essential equipment.

Increase your revenue by expanding your business with the help of technology.