Boost Business Success Metrics: Dairy Management Software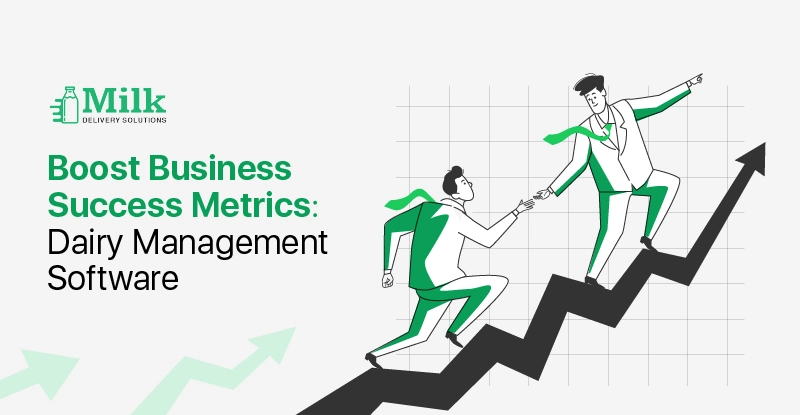 Increasing market competition and a consistently evolving dairy industry have made it difficult for businesses to grow and improve their business metrics. Management of dairy business processes includes managing complex sales and distribution processes. Optimising the operations involved in sales and distribution, dairy management software has emerged as a powerful tool. 
Leveraging the features offered by the software dairy businesses can streamline operations, enhance efficiency and productivity, improve business metrics, and drive business growth.      
In this blog post, we'll explore how dairy management systems can help improve key business metrics for dairy businesses. We'll discuss the specific areas where this software can make a substantial impact, allowing companies to achieve operational excellence, save costs, and improve metrics.    
7 Ways in which the software helps in improving the success metrics for your business:
Optimises the retail milk supply chain
The software automates the entire business operations from ordering to order fulfilment, optimising and making them seamless. It automates order assignment to the driver and order dispatch and auto-generates the inventory report that includes the data about the current inventory, total inventory required and the supplementary products needed to fulfil the customer demands. 
How does optimisation improve business metrics?
Automation ensures order accuracy and on-time delivery and increases customer satisfaction scores. It also reduces order return rates.
Inventory reports improve the inventory turnover rate and reduce the chances of stockouts.
Precise future inventory details minimise the order cycle time and the chances of dead stock.
Customer ordering application
The customer ordering app is a customer interface that allows customers to place orders after they have installed and registered the application. Offering a platform to place orders removes the need for placing orders via call or Whatsapp, avoiding the chances of human errors. Customers receive order status updates and can track their orders in real-time. The customer app also allows customers to make their payments through in-app payment gateways and the wallet. Businesses can also promote their apps on social media platforms. 
How does offering a customer application improve business metrics?
Ease of placing orders improves customer experience and lowers customer churn rates.
Order status updates and live tracking keep the customer content about the order and increase customer satisfaction scores adding to brand value.
Avoid chances of human error in the ordering process, and ensure order accuracy.
Offering multiple payment options lowers the cart abandonment rate.
Digital app promotion helps businesses to create brand awareness and bring traffic to the app minimising the customer cost of acquisition.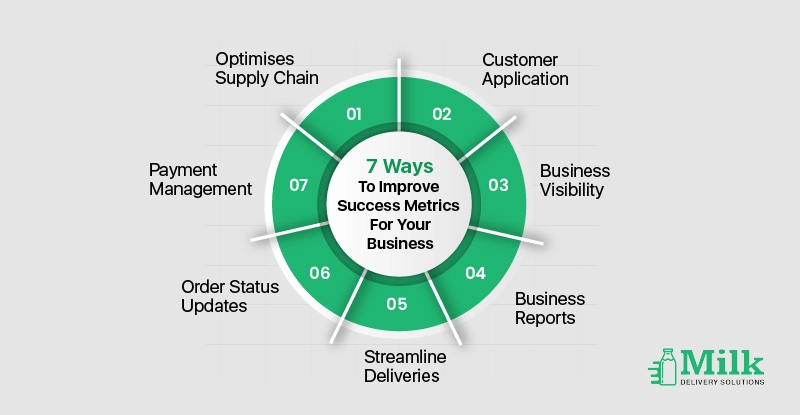 End-to-end business visibility 
Integrating delivery management software gives a bird's eye view of the entire business operations to the business owners in real time. It includes order tracking, inventory tracking, and delivery tracking in real time. Both the customer interface and driver app work in sync with the business dashboard, reflecting any changes made by the customer or the driver on their respective platforms on the business dashboard. 
How does end-to-end business visibility improve success metrics?
Tracking orders enhances

order accuracy

.

Having actual numbers in inventory avoids

stockouts

and improves

available inventory accuracy

. 

Payment tracking helps in improving the

accounts receivable turnover ratio

. 

Tracking delivery improves

customer satisfaction

and

customer retention rates

.  
Data-driven business reports
The dairy management system auto-generates business reports that aid in making informed decisions and strategising future sales. These reports help in understanding product demand and customer behaviour. By understanding these factors, businesses can also scale and expand their businesses.
How do data-driven business reports improve success metrics?
Strategising product sale planning improves net sales revenue and overall ROI.
These reports also help businesses to figure out ways to utilise free-up money and use funds effectively to improve working capital.
Accurate inventory data, sales plans, and future business plans enhance the current ratio of businesses.
Streamline delivery management
The software auto-optimises the delivery route, and order assignment, dispatch, and delivery are automated. The delivery orders get auto-assigned to the delivery drivers and sent out for delivery.
How does streamlining delivery management improve success metrics?
Optimising the route decreases the

total turnaround time

and reduces

fuel costs

.   

Optimised route minimises fuel consumption reducing carbon emissions and

carbon footprinting

. 

Automating order assigning and dispatching improves order delivery

on-time in-full  (OTIF)

. 
Order updates and live tracking
Customers and vendors get updated as the order is marked picked, packed, dispatched and delivered. They can also live track the order and the delivery drivers from their respective platforms. 
How do order updates and live tracking help improve success metrics?   
Live tracking of delivery drivers helps businesses to track

drivers' efficiency

and

performance

.

It enhances the customer experience and promotes transparency increasing

customer lifetime value (CLV)

and

customer loyalty.

It also helps in improving the

net promoter score

. 
Payment management and tracking 
The software assists with payment collection, payment recovery, and payment reconciliation. It allows the integration of multiple payment gateways giving customers flexibility in making payments. The system lets businesses track customers' invoice payments, automatically sending low payment reminders and pending payment notifications that ensure customers don't forget to pay and secure on-time payments. 
How can payment management and tracking help improve success metrics?
Offering flexible modes of payment improves the

customer experience

and reduces the

cart abandonment rate

. 

Payment tracking helps in avoiding customer disputes and increases

customer satisfaction scores

. 

On-time payments improve

positive cash flow

and keep businesses away from

bad debt

.
Dairy management software is a powerful tool for businesses helping them improve their business metrics and eventually scale. The software lets dairy owners focus on planning strategies without worrying about business operations. If you are also looking forward to improving your business metrics and growing exponentially, book a meeting with our industry experts, and we'll contact you.