Top 6 Reasons To Hire Milk Delivery App Development Services
It's no secret that door-to-door delivery is a new trend in customer-facing technology, and milk delivery is no different. With consumers becoming more health-conscious the dairy industry is seen as one of the fastest-growing industries. According to Statista, "The value of the dairy market worldwide which was estimated to be 871bn USD in 2021 is now projected to be about 1,128bn USD by 2026."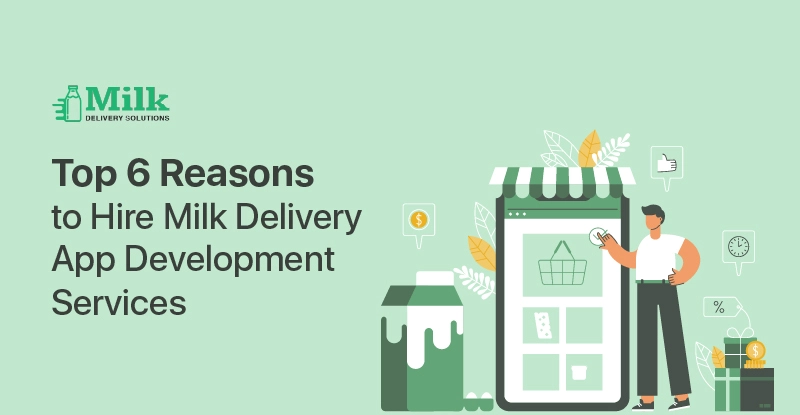 Catering to the rising demand without using any delivery management software is not a cup of tea for everyone. This is where the need for hiring a milk delivery app development service arises. In this blog, we'll discuss how a delivery software service provider can help you grow your business. 
Reasons to hire a software service provider for your milk business
Expertise and knowledge
App solution providers have extensive experience and knowledge of app development that can help you create an app that is specifically tailored to your milk delivery business requirements. They understand the challenges and specific requirements of the milk delivery business which allows them to devise a solution that is efficient and effective.
Customisation
SaaS solutions are considered to be more approachable than in-house as they are inexpensive and easy to use. They are designed keeping in mind the challenges in the milk delivery business. However, businesses can incorporate and modify some features based on their requirements.
Time and cost-efficient 
Building a software solution on your own can be highly expensive and time-consuming. By hiring a professional milk delivery app development service you can save time as well as money without worrying about the quality of the solution. Moreover, once the business is set up, the service providers take care of maintenance and offer ongoing technical support. 
Scalability 
As the business grows, the number of customers increases you should be able to handle increasing user demands. And only an efficient app developed by a professional can accommodate new features and build a scalable architecture to allow future expansion and multiple integrations. This ensures that the application is able to adapt to changing trends and technological advancements.
Competitive edge
Having a mobile app for your milk delivery business allows you to stand out from the crowd. It gives convenience to customers, improves their customer experience while improving brand visibility and allows the business to personalise marketing strategies. 
Quality assurance
Software service providers follow industry best practices and employ strict quality assurance processes. They conduct extensive testing and debugging to ensure that the milk delivery app functions flawlessly across different devices and platforms. This ensures a smooth user experience and helps in building customer trust and loyalty.          
In conclusion, hiring a milk delivery app development solutions provider offers several advantages such as expertise, customization, time and cost savings, quality assurance, scalability, technical support, and a competitive advantage. By leveraging their knowledge and experience, you can launch a robust and user-friendly app that streamlines your milk delivery operations and enhances customer satisfaction. Schedule a brief call if you also want to know how you can do it and see how we can help!