Complete Guide- Milk Delivery App Development
Changing customer expectations and advancements in delivery management technology have transformed the way deliveries are done. From delivering on-demand to making scheduled deliveries and supporting subscription-based deliveries technology has played a crucial role.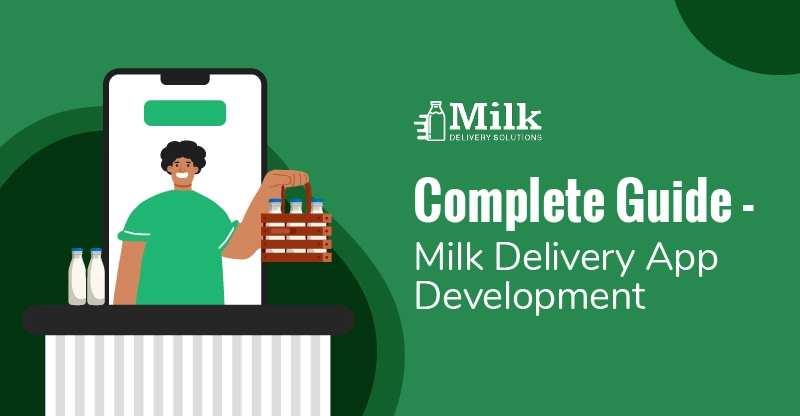 Milk is a daily need product and is also referred to as a morning need service as milk and other dairy products are needed daily. The milk delivery app is a customer interface that allows customers to place subscription orders or one-time orders seamlessly. 
In this article, we will discuss all about "milk delivery app development"- what is a milk development app, the components of a milk delivery app and what must be considered while developing the app. 
What is a milk delivery app development?
The milk delivery application is a platform that allows customers to place their subscriptions or one-time order. The orders are delivered on a particular chosen time slot and day. The deliveries are done according to the schedule created regardless of whether they are one-time orders or subscription orders.  
The customer can place the order by following the below steps;
Customers need to download and install the customer application

Register themselves by adding general details like; name, address, age, gender, etc.

A list of the products appears once the registration is complete. Customers can add the product to the cart for a one-time order or subscribe to it. 

Click on checkout. Select the preferable mode of payment and place the order.
How to develop a milk delivery app?
It is crucial to understand that not all software types are compatible with your milk delivery business model. Let's understand this with an example; If you are providing subscription-based milk delivery services, on-demand delivery software might not be a wise option for your business. Nevertheless, subscription-based software also supports one-time orders, but these orders are not delivered on demand, rather, they are delivered based on a predefined schedule.
Things to do before getting a milk delivery app developed
Market research
Market research is a highly crucial component when it comes to getting a result-oriented development. Studying similar businesses or competitors allow you to understand what is working in the market and what not to do. Strategise your plan and go ahead to create an edge. With businesses going digital, it is crucial that you also consider going digital to get a competitive edge against your competitors. According to the Market 2020 In (sight) Report, "Over half of all automation tools target efficiency. Moreover, 78% of business leaders believe that automation enhances the overall productivity of the organization."
Understand your requirement
It is important to understand your requirement or else you might end up buying something you might not even use. Understanding the components of the software and seeing how they work is crucial for you to make the right decision.      
The milk delivery app consists of 
The milk delivery app is a consolidated platform that allows milk business owners to streamline and automate their businesses to improve efficiency, productivity and profitability. The platform consists of three components that work in sync- Admin Panel, the Driver App and the Customer Interface.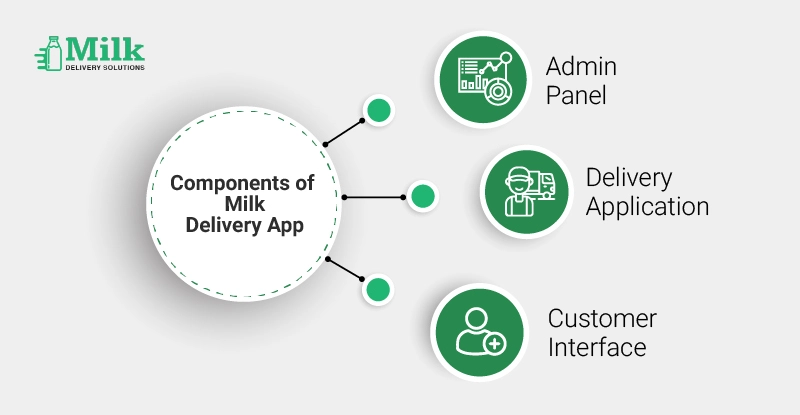 Admin panel
Manage orders
Payment management
Manage stocks 
Real-time tracking
Customer data
Route-optimisation
Delivery Application 
Details of customers and their details
Obtain payment and delivery proof
Add new customers and place orders    
Customer Interface
Place orders digitally 
Make in-app payments 
Real-time order status
Consider your milk delivery business model
There are three types of delivery models in milk delivery businesses:
On-demand delivery
The app is designed for businesses that cater for customers on demand. The customers place orders that are delivered within a set period of time. Instamart from Swiggy is an on-demand application for grocery and dairy delivery app.    
Subscription-based delivery
Subscription-based delivery is when the customer places a subscription order where the delivery is done repeatedly in a pre-defined frequency. Order and billings are managed online through the software. Country Delight is an example of a subscription-based business.  
Farm-to-Door delivery
The customers receive fresh milk directly from the local farm. The application removes the middlemen and sells the products directly. "Farm Fresh to You" is a farm-to-door delivery service. 
Benefits of milk delivery app development
Complete visibility of the business
The business owner can control and operate their entire business through a single platform. They can keep track of deliveries and maintain the entire data on big data. This gives the businesses an ease to operate the business.      
Improves the efficiency of the business
The software automates and streamlines the business that makes it both operationally and financially efficient. It optimises business operations minimises operational costs and improves the sustainability of the business. According to The State of Process Automation, "51% of the businesses are automated in order to boost its efficiency."   
Increases the customer satisfaction score
Offering an online platform to the customers gives them ease in placing orders, making payments, accessing past orders and invoices, getting real-time order status updates, and tracking the orders and ETAs. These features increase the CSAT and improve the customer retention rate.
According to Top Business Tech, "Retailers that have already evolved to transform their businesses digitally will reap the benefits of customer loyalty and boost revenue, while those who have not hopped on the bandwagon will struggle to compete and impress their customers." 
Marketing
Taking the business online allows businesses to market it online on social media. The online market is inexpensive market as compared to the traditional way of marketing. Digitally facing businesses have more visibility than businesses that don't.         
The milk delivery app is a powerful tool that can help milk delivery businesses to improve their operational and financial efficiency and get intuitive business insights. Integrated automation into the delivery business increases accuracy, speeds up the delivery and reduces the operational cost. If you are also looking forward to milk delivery app development, Milk Delivery Solutions, has a team of IT experts that can help you build your own app tailored to your needs. Book a Meeting to discuss your business and future vision.