Direct-to-Consumer with Milk Round Software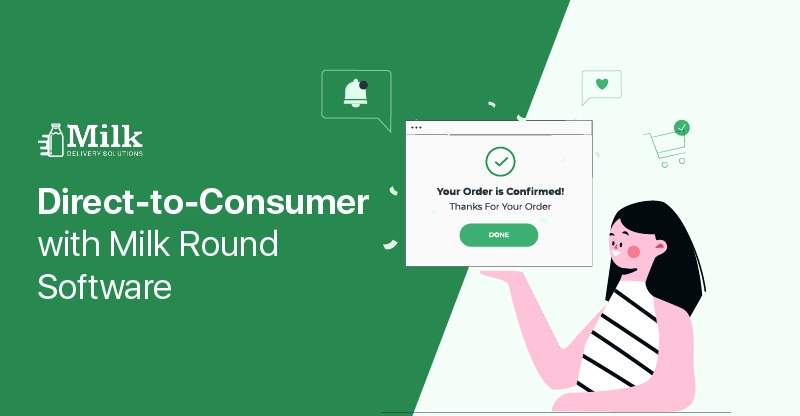 As consumer behaviour is changing from visiting the stores to buy milk to getting them home delivered. With a busy and hectic schedule, consumers want a service that delivers daily morning services like milk, curd or cheese, morning services have started delivering them on-demand or subscription-based. Morning services are the products that are required every day and mostly follow the subscription model rather than the on-demand model.  
Customers place their on-demand or subscription orders from the customer interface and the order is delivered in the next available schedule for on-demand orders whereas the subscription starts according to the date and time selected. 
In this article, we will discuss what is direct-to-consumer milk business, how milk round software helps DTC milk delivery businesses, what are its benefits and see how we can help.  
What is the Direct-to-Consumer milk business?
Direct-to-consumers in the milk business refers to when the business delivers milk and other milk products directly to the consumers without the involvement of any intermediary like retailers. DTC businesses have gone online and allowed their customers to order directly via the customer interface. 
How does milk round software help the DTC milk business?
Milk Round software is an integrated platform that has three main components- an admin panel for the business owners, a driver application for the delivery drivers and a customer interface for the customers to place their orders. All three components work in sync and any changes made in the driver app or customer interface are reflected on the admin panel.
Features of milk round software that help DTC business
Order management- The milk delivery businesses generally are subscription-based and manage both subscription orders and one-time orders. Subscription orders or one-time orders are placed from the customer's mobile app for milk delivery.   
Payment management- The dairy management software should offer flexible payment options for the customer to pay their bills. It gives flexibility in making payments that increase customer experience. It improves positive cash flow and avoids bad debt as it sends auto-generated pending payment notifications that ensure that customers do not forget to pay their bills.  
Route optimisation– The software creates routes and schedules for their deliverable areas and assigns drivers to the routes. The orders are auto-assigned to the drivers to whom the particular route is allotted and the route is optimised creating the shortest delivery path and sequencing the orders accordingly.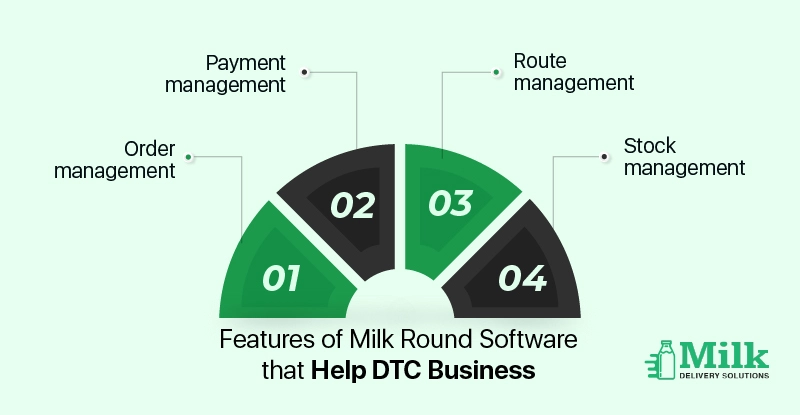 Stock management- Stock management is very important for a successful business. It allows businesses to manage and track their inventory without having to hire extra staff. The software auto-generates complete stock reports that include data on available stock, total stock required to fulfil customer demand, and extra stock needed for order fulfilment. Stock management is crucial for milk delivery businesses as milk and related products have a short shelf-life and improper inventory management can lead to losses due to product spoilage.  
What are the benefits of milk round software in DTC milk businesses?
Increases net profit margin- As the DTC model removes middlemen like retailers from the milk supply chain which increases the margin on the product. Profit of 30% to 40% can be increased just by removing the middlemen. 
Enhance milk sales- Products being directly sold to the customers remove the extra operational cost. The saved funds can be used for marketing purposes that can help in acquiring new customers that eventually increase sales after a certain period of time. 
Brand loyalty- Consumers are cautious while trusting a brand when it comes to their health.  Direct sales allow businesses to build a personal connection with their consumer and boost customer relationships. 
Customer data access- The businesses have complete control over customer communication and engagement. The customers are able to understand the core values of the business increasing transparency and trustworthiness. Milk management software uses telematics to allow direct communication between customers and businesses.  
Direct-to-customer milk delivery businesses are more efficient than traditional milk delivery businesses. DTC milk delivery businesses can be streamlined and optimised with online milk management software which allows businesses to expand the business and penetrate deeper into the market. Using technology helps in the scalability of the business by reducing operating costs and increasing margins. Book a meeting with the dairy industry experts to see how our "milk delivery solutions" can help your business.