How Can Milk Delivery Solutions Help Improve Business Metrics?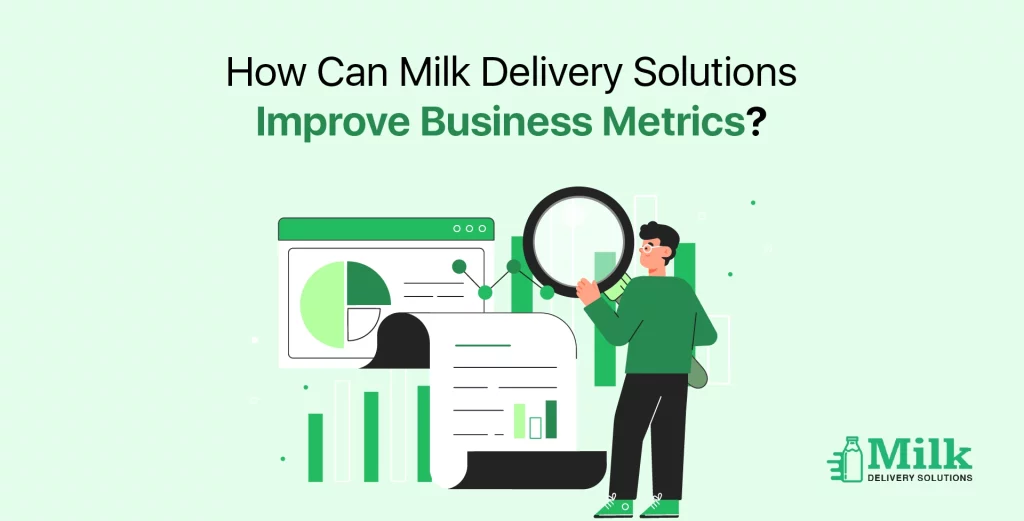 With ‌changing consumer behaviour and increasing health concerns, demand in the milk market has increased. This change and increase in demand for milk and dairy products collectively have accelerated ‌competition among businesses, and many milk delivery businesses have started automating their businesses with milk distribution software.
According to Camuda's The State of Process Automation, "51% of businesses implement automation initiatives to boost efficiency."
Therefore, milk businesses must adopt automation to survive the competition in the milk market.
Milk delivery solutions is an integrated platform that automates and streamlines all milk business operations. In this blog, we'll discuss the features of "milk delivery solutions" and how these features help optimise milk delivery businesses.
6 Crucial Features of Milk Delivery Software
Efficient Order management
The order management process includes order placement, order picking, packing and auto-dispatching, and order fulfilment. The software allows customers to place, modify, and cancel subscriptions and one-time orders digitally. The orders are auto-assigned to the drivers based on the delivery route and are auto-dispatched. Customers can track their orders and get live order status updates. Order summaries and invoices are auto-generated.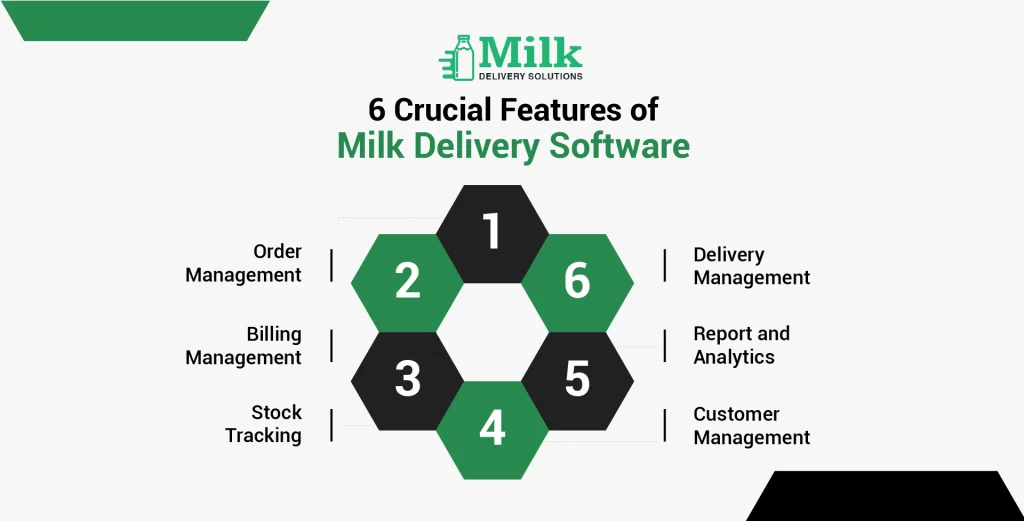 How does automating order management help your milk business?
Reduces the chances of human errors and improves order accuracy
Improves the efficiency of the process, resulting in on-time in-full (OTIF) order fulfilment
Live order status tracking improves customer satisfaction scores (CSAT)
Auto-generated order summaries and invoices reduce the chances of customer disputes and increase the Net Promoter Score (NPS)
Billing management
Automated payment management offers multiple payment gateways that give customers flexibility. The system allows customers to pay online (via credit or debit card, through payment gateways like Stripe, Paytm, and SagePay), or via cash. Milk delivery management software will enable drivers to log the cash received from ‌customers. The logged amount is auto-updated in the admin panel. Drivers also obtain proof of payment with either a signature or an OTP. It helps businesses with payment reconciliation. The system sends in-app notifications about pending payments and low-balance reminders in the wallet.
How does automated payment management help businesses?
Proof of payment mitigates the chances of customer disputes and improves Net Promoter Scores (NPS)
Multiple payment options for customers improve the customer experience (CX) and increase customer satisfaction scores (CSAT)
Pending payment and low balance reminder Improves positive cash flow and helps get rid of bad debt
Stock tracking
Automated stock management auto-generates stock reports that include details of the stock present in the warehouse, the total stock required to fulfil future customer demand, and the stock required to fulfil ‌future customer demand. Having precise details of the stock prevents businesses from overselling or getting overstocked. Both excess and insufficient stock can result in losses through spoilage of products and unsuccessful order fulfilment, respectively. Efficient stock management ensures businesses never run out of stock.
How does automating stock management help businesses avoid losses?
Analysing the precise stock details helps in planning future sale decisions
Ensure on-time in-full (OTIF) order fulfilment
Buying an accurate amount of stock improves stock turnover rate
Having the right amount of stock lowers the backorder rate
Delivery Management
Route management is a crucial feature of milk delivery software that involves automating order assignment, dispatching, route optimisation, and generating ETAs. The order is auto-assigned to drivers according to the delivery route. The route is optimised creating the shortest delivery path. The order is then auto-dispatched and the estimated arrival time is sent to the customer. The system also allows customers to track their orders.
How can route management help optimise deliveries?
Defining routes and optimising them reduces the total turnaround time (TAT) and the transportation cost
Reduces carbon dioxide emissions and the impact of carbon footprinting
Providing ETAs and live tracking increases customer satisfaction scores
Report and Analytics
Milk delivery software auto-generates business reports like sales reports and analytics- monthly and annually), sales according to geography, customer reports and sentiments, product sales, distribution and logistics, and Profit and loss. These reports and analytics are studied and analysed by businesses to track the growth and financial health of the business and plan future business.
How do reports and analytics help businesses?
Allow businesses to plan on scaling their business
Strategies to increase the Net Profit Margin and Recurring Revenue (RR)
Track the performance of the business and improve returns over investment
Customer Management
Store and manage your entire customer data (both B2B and B2C customers) in a single system. Having accurate and detailed customer data allows businesses to understand consumer behaviour and product demand. Using the data, businesses can provide personalised experiences and improve them.
How does customer management help businesses ‌grow?
Efficient customer management improves customer lifetime value (LTV)
Personalised customer experience improves the customer engagement score (CES)
Happy customers not only improve customer retention rate but also bring repeat sales and referrals that lower the cost of acquisition for new customers.
Milk delivery solutions is an integrated platform that automates and streamlines the entire milk business, allowing businesses to focus on planning and strategising future business sales without worrying about business operations. It improves the efficiency, productivity, and profitability of the milk business.
If you are looking forward to improving your business operations and taking them to the next level, book a meeting with our industry experts to discuss your plans and see how we can assist you.