Requisites for Adopting D2C Model with Milk Round Software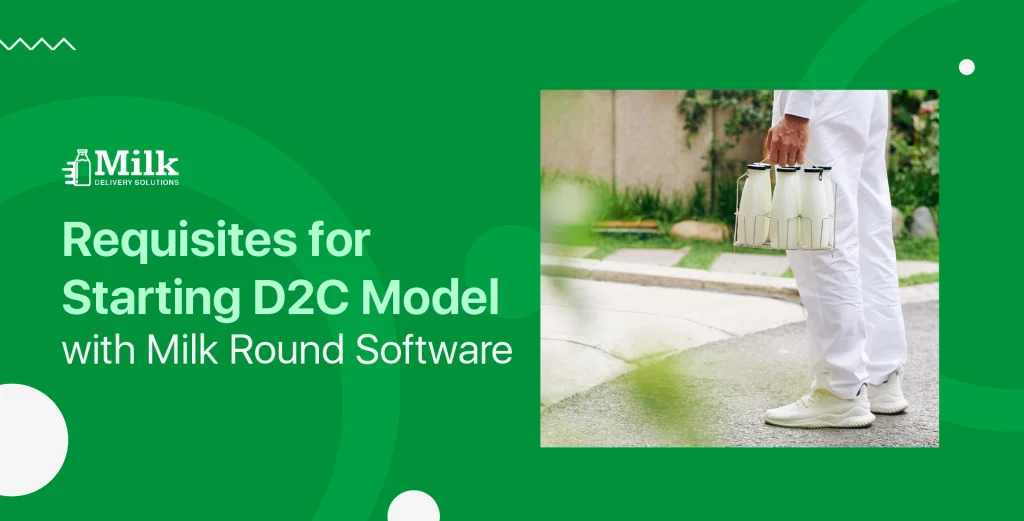 With the explosive growth of online "morning need service" and grocery products, many milk delivery businesses have switched to a direct-to-customer business model. The D2C milk delivery business model with milk round software has brought many innovative ways of interacting with customers, which helps businesses create a brand strategy that increases consumers' loyalty and lifetime value.
Shifting your business to a DTC milk delivery model can be daunting if appropriate planning and strategising are lacking. However, considering a few things while opting for direct-to-consumer milk delivery can assist in a successful DTC milk delivery business. Here, the use of delivery management software plays a crucial role in making a D2C business a success.
In this article, we'll be discussing the points and things you must consider for direct-to-consumer milk delivery.
According to The Drum, "In the United Kingdom, 97% of chief marketers surveyed said that DTC has become a priority during the pandemic, and 46% anticipate that these channels will account for 30% of total sales over the next five years."
Things to consider before starting a direct-to-consumer milk delivery business
Efficient workforce- Direct-to-consumer milk delivery businesses deliver milk orders directly to customers, which requires staffing like delivery partners. You may also require market analysts to study and analyse product demand and consumer behaviour to plan your future market sales and scale. As DTC milk delivery businesses are mostly subscription-based, without a skilled workforce, your business might fail. An efficient workforce can help you drive your business and increase the productivity of your DTC milk delivery business. This helps improve ROI and net revenue.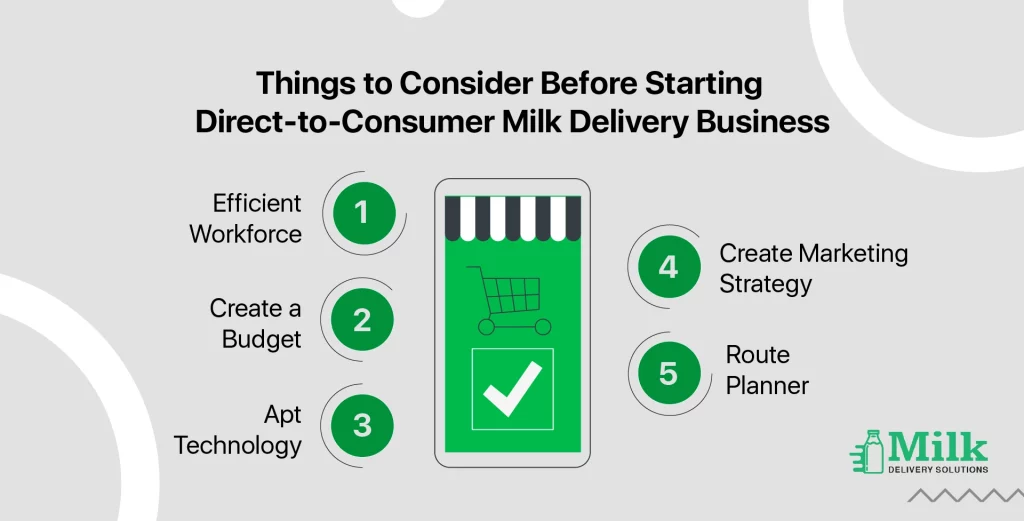 Create a budget- Connecting directly to consumers and delivering goods needs a well-planned budget that is divided appropriately into different business operations like order management, inventory management, and deliveries. It is crucial to manage the operational budget so that ‌net profit doesn't exceed ‌costs.
Apt Technology- Using the right technology is important as it can help you reduce the overall headcount of business operations and mitigate the chances of human errors. An online milk delivery system is an integrated platform that automates and optimises the entire business process. An efficient milk delivery app allows businesses to focus on planning and strategising future business sales and scaling up.
Create a marketing strategy- The DTC milk delivery model gives businesses complete control over marketing communication. This makes it important that they know how to create marketing strategies to improve customer interaction and customer relationships. Milk delivery businesses can also hire an expert digital marketer who can create and manage their marketing.
Route planner- It is crucial for milk businesses to plan its routes in the deliverable areas. Issues in route planning can increase the cost of last-mile delivery and impact overall net profits. Ideal route planning helps reduce fuel costs, delivery turnaround times, and ‌the impact of carbon footprinting. It helps businesses increase their sustainability.
Opting for the DTC milk delivery business might seem overwhelming and exciting; however, removing middlemen from the chain can improve sales and increase the net profit margin. Here are two used cases that are DTC subscription milk delivery businesses.
Oakridge Farm
Oakridge is a subscription-based milk delivery business that is based out of Ellington, US. This DTC subscription-based business went from having 300 clients to 3,000 clients within eight months. Over the past three years, the company has grown and now includes more than 30 partners in the United States.
Country Delight
India-based tech-home-direct-to-home consumer brand that is subscription-based. The company's business model provides farm-fresh deliveries in 24-26 hours and is a fully facilitated just-in-time supply chain model. Country Delight has been able to increase the average revenue per customer (ARPU) by 60% in just 24 months.
If you are also interested in knowing more about direct-to-customer milk delivery and seeing how our "Milk Round Software" can help your business become a brand like Country Delight and Oakridge, Book a Meeting