What is a Milk Delivery App?
With buyer behavior moving to focus on fast, straightforward, and effective experiences, the digitization of industry is growing at the fastest pace. Presently we are preferring mobile apps for everything. We hardly need to step outside for purchasing. Speed, Convenience, and simplicity are at the highest point of the need list for customers hoping to have their requirements met.
And every one of the three is being satisfied by the milk delivery app. The most current segment of this software is a milk delivery application that empowers clients to get milk and other dairy items directly at their doorstep. Milk being the main item of our life, would you be able to try and start to imagine the extent of this idea?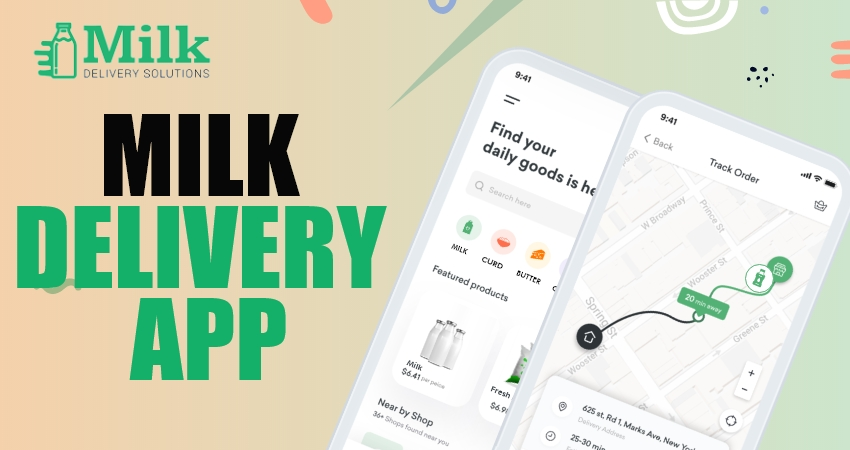 Milk Delivery App is designed to make the relation of business and customers with an online platform. It covers the distance between where we stand today and where we want to go in the future. This is the Most hassle-free delivery system which helps to record the business transactions automatically. Through the milk delivery app, customers can get milk easily at their doorstep. 
To know how this milk delivery application functions, read the points given below – 
The initial step is to develop Milk Delivery Applications from experts. 

Buyer can choose their different regions for milk delivery. 

Let the customers register themselves.

Customers can order the milk required from the software and the owner will get the notification of order and he will assign a driver to the particular order for delivery. 

The customer will pay in wallet or cash on delivery when milk is delivered at the doorstep. 
Need for Milk Delivery App
Milk Delivery Software is developed to provide extreme comfort to the customers right at your doorstep, at the same time every day. Mobile App for Milk delivery helps to deliver daily essential products like milk, bread, eggs, butter, juices, and other daily needed items every morning, right at the doorstep. And for those who are running late for work, a milk delivery app is often the best blessing. 
With these applications, you can register yourself, set your area and daily necessities, and get guaranteed delivery at the chosen time each day. Isn't it just so beneficial? No more issues of visiting your nearby vendor consistently to purchase fresh milk and milk items.
Let's have a brief on the need for a milk ordering app. 
To Boost Sales – When the owner opts for a mobile app for milk delivery for dairy farms, they can target more customers through an online platform. The online platform will work as a new market for you, jump into it and boost sales for your dairy farm. 
Scale Your Dairy Farm With Automation – Maintaining your business reports manually is such a difficult task. Dairy Milk management software is a systematic process to keep the records of sales, products, and customers. Owners can create profiles of customers and then the daily transactions are added automatically.
To Survive In  Covid Crisis Or Lockdowns – As we know Covid-19 is hitting businesses badly. It is hard to survive at the time of lockdowns. But. milk ordering app is helping businesses to deliver milk with contactless deliveries. Customers can get the milk packets at the doorsteps and avoid coming out of their homes. 
Real-Time Tracking – Real-time tracking systems are utilized to naturally identify and follow the area of locations or individuals progressively, usually inside a building or other contained region. Customers can track the order location and timings also the owner can track the driver locations anytime anywhere. 
Want to Expand Your Milk Delivery Business?
We have the ideas & technology ready.
Features Of Milk Delivery App
We need to modify the delivery for 3 categories of Active members, users, administrators, and the delivery boys. Our online milk delivery app arrangements are made with customized user-friendly highlights like Customer records, inventory, and Bill management that give the owner the freedom to operate, and scheduling the orders as required.
Customer Management – Helps in getting to customer profile, their payments, order history, and demographics, and repeating orders for some particular tenure.
Product Management – Business owners can manage the products. In the app, they have the option to list down all the different categories of products with graphics. 
Billing Management – Clients may pay the owners with cash, Mastercards, or on the other hand, in the event that they offer to it, an installment plan. Despite how they pay, farm owners need a billing framework to receipt and track client orders. Billing management frequently is intended to deal with everything from processing charges to providing statements.
Route Management – Route management helps to get the best productivity with limited resources. The delivery boys can have the route in advance with less traffic, which helps to save time and fuel. Admin can arrange the routes manually on the basis of distance. 
Order Management – Order management will help to track the orders, process of receiving and fulfilling customer orders. From the placement of orders to the delivery the whole process is covered under order management. 
Communication Management  – Communication management is a systematic process of communication in an organization that helps to manage the entire work. Customer support and other communication channels help to smooth the operations.
Benefits Of Milk Delivery App
There are infinite benefits of a milk delivery app for both consumers as well as dairy companies.
For Dairy Customers

Ease For Customers – In usual settings, individuals need to visit their nearby store to buy milk each day. Indeed, even in the event of a crisis like Covid-19 or unexpected climate conditions, clinical emergencies, and so on individuals need to figure out how to get to the market as milk is a necessity. With the mobile app for milk delivery, the clients can save themselves the issue of stepping out as they can get new milk directly at their doorstep.
Flexibility In Delivery Timings – This is probably the best benefit of milk delivery applications. They permit clients to choose the amount of milk and delivery timings according to their convenience. It is a fantastic choice for working people or individuals who needn't bother with milk each day.
Choice of payments – Milk Delivery Software empowers all clients to pay web-based utilizing integrated installment options. Numerous installment modes, including e-wallets, make exchanges secure and hassle-free. Likewise, when a client registers himself on the application, he can refresh his application offset with a particular sum that covers his week-by-week or month-to-month milk costs. 
For Dairy Companies
Ease of operation – Dairy Management Software helps dairy organizations to smooth out their tasks. With these applications, they can record everything, directly from the all outnumber of clients and delivery boys to keeping up with significant KPIs.
Branding your services – Online software helps to change over your small business into a recognizable brand. Individuals have considerably more confidence in brands than local marked administrations, attributable to their virtue and dependability. With an online milk delivery app, dairy organizations can advocate their administrations and secure themselves as a milk distributor brand.
Conclusion 
However, It is always desirable to bring business online. If you have a milk delivery chain then this is the time to take your business to the next level and get ahead with time and market. Increase your business opportunities and reach with the help of online service and get in contact with more users.
Expand your business with the help of technology and boost revenue here.