How Does The Milk Delivery App Work?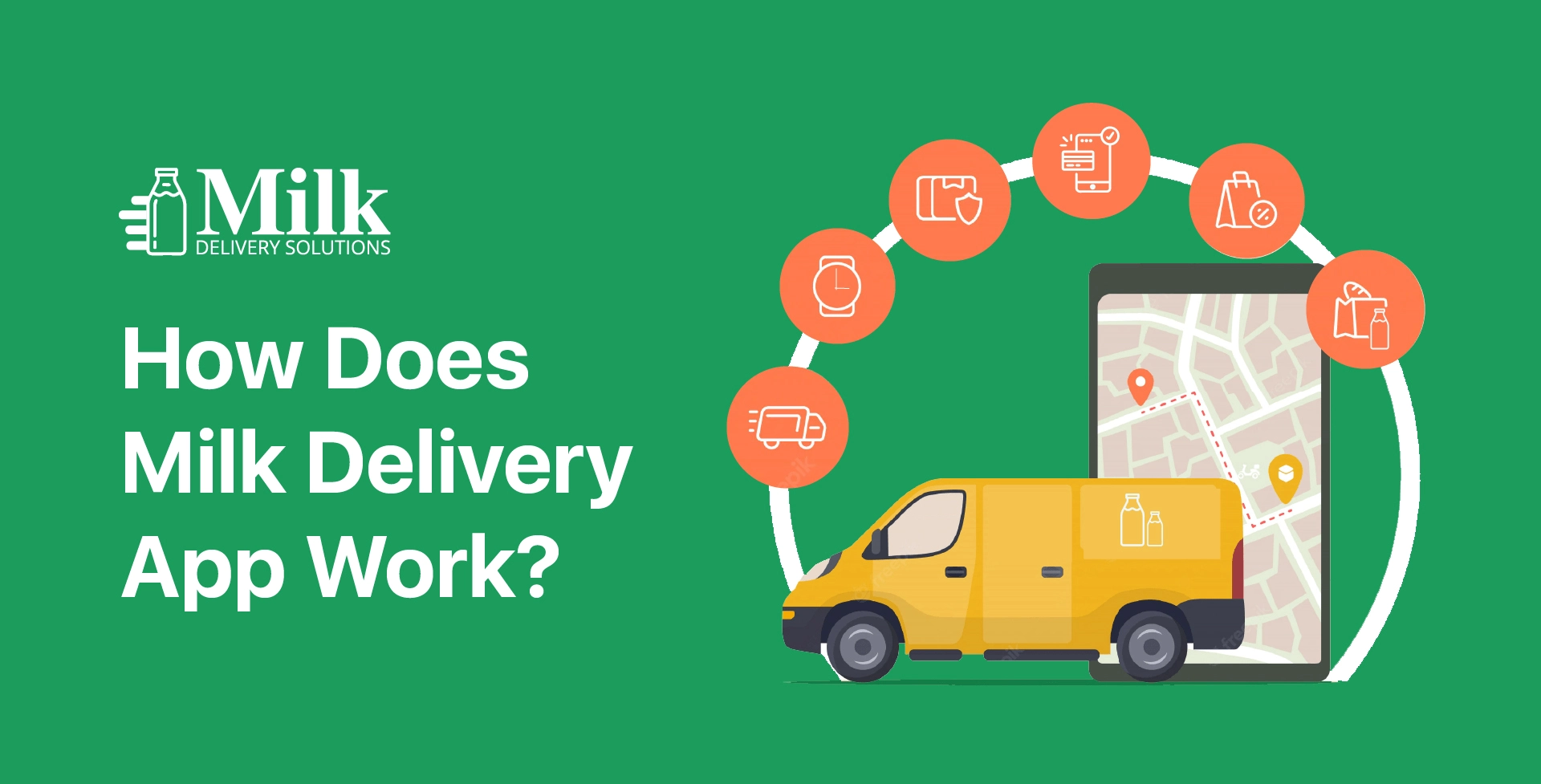 Convenience is paramount in our quick-paced, digitally-driven world. Everything is at our fingertips, from ordering food to having our daily necessities delivered to our door. One such necessity is milk, which is a standard in most homes. The popularity of delivery apps has increased along with technology's advancement, making it easier for us to get our daily dairy intake.
This blog will examine the operation of these milk delivery apps and how they are altering our access to this essential good.

What is a Milk Delivery App?
It is an online application that allows customers to place one-time or subscription orders without having to go through the hassle of placing orders by phone. Customers can place, modify, and cancel orders from the application. The customers can track their orders, get ETAs, and connect with their delivery drivers.
Mechanisms of this delivery app-
Registration and sign-up
Downloading the app from your preferred app store and creating an account are the first steps in using a milk delivery app. Users typically provide their basic information, such as name, address, contact number, and email. You might be able to sign up for some apps using your social media accounts for added convenience. Users can access the app's features at any time after registering by logging in.
Location-based services
The delivery app relies heavily on location-based services. The app uses your device's GPS to determine your location when you first open it. The app needs this data to locate nearby dairy suppliers and delivery routes. If customers want to receive their milk somewhere else, they can also manually enter their delivery address.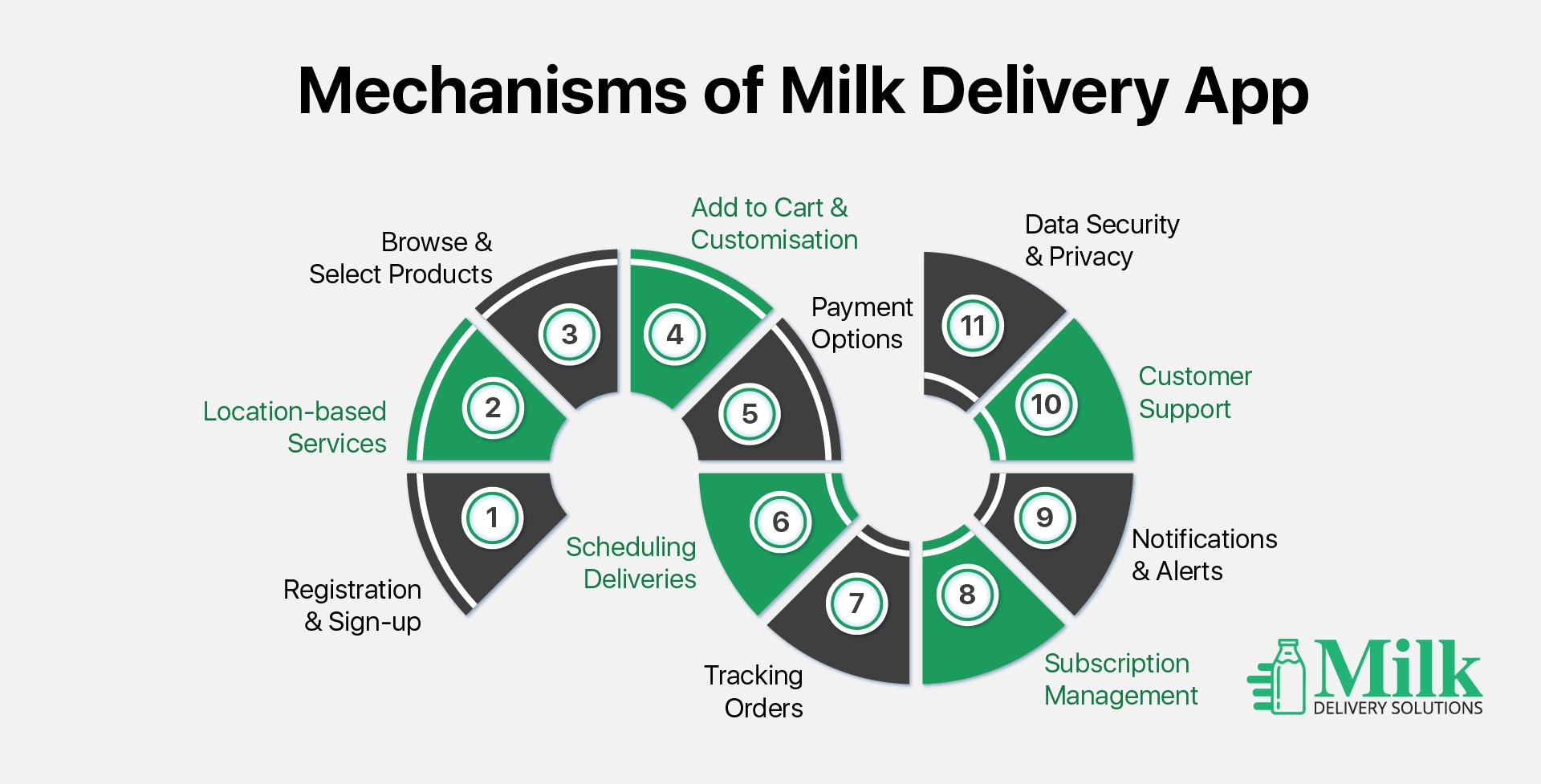 Browse and select products
After logging in and having your location identified, you can begin browsing the dairy products that are offered. These apps typically provide a wide range of choices, including various milk varieties (cow, buffalo, goat), milk types (whole, skim, lactose-free, etc.), and even dairy products like yoghurt, butter, and cheese. To make an informed decision, you can view product details, prices, and images.
Add to cart and customisation
Milk delivery apps allow users to add their desired products to a virtual shopping cart, much like e-commerce platforms do. You can be specific about the items' quantity, size, and brand. Some apps also let you customise things like the milk flavour or fat level. Your needs will be met thanks to this flexibility.
Scheduling deliveries
The ability to schedule deliveries at your convenience is one of the key features of a mobile app for milk delivery. Users can select daily, weekly, or monthly deliveries as their preferred frequency. Additionally, you can choose your preferred delivery window, ensuring that your milk will arrive when you need it most. This scheduling function makes life easier and does away with hurried trips to the grocery store.
Payment options
To accommodate different preferences, milk delivery apps provide a variety of payment methods. Customers have several payment options for their orders, including credit/debit cards, digital wallets, and occasionally even cash on delivery (COD). The payment procedure is safe and simple, offering a smooth transaction experience.

Tracking orders
You can track the progress of your delivery in real time after your order has been confirmed and your payment has been processed. You can view the location of your delivery vehicle and the anticipated time of arrival using the live tracking features offered by many apps. You will always be informed of the delivery date for your milk thanks to this transparency.
Subscription management
Milk delivery apps provide subscription management tools for customers who choose recurring deliveries. Your subscription can be easily changed, including the ability to add or remove products, change delivery times, or pause/resume deliveries as necessary. The service will be able to change to meet your changing needs, thanks to this flexibility.
Notifications and alerts
Milk delivery apps send notifications and alerts at various points during the delivery process to keep users informed. You might be notified when your order is placed, ready for delivery, or delivered right to your door. Additionally, you can save money on your dairy purchases with some apps' updates on special deals, discounts, or promotions.
Customer support
Milk delivery apps frequently provide customer support channels in case there are any problems or questions. These options might be a customer service phone number, email assistance, or in-app live chat. Responsive customer support ensures that any problems are promptly fixed, thus improving the overall user experience. 
Data security and privacy
Data security and privacy are serious concerns for milk delivery apps. To safeguard user information, they employ encryption and other security measures, making sure that financial information and personal information are kept private. To protect user data from unauthorised access or misuse, they also follow strict privacy policies.
Finally, milk delivery apps have completely changed how we get this necessary household good. Users of these apps can easily browse, order, and schedule milk deliveries thanks to the seamless and practical experience they provide. The app is an integrated component of milk delivery solutions that accommodates a wide range of user preferences by offering features like real-time tracking, customization, and subscription management.
Apps for milk delivery should develop further as technology progresses, bringing consumers more features and advantages. These apps are altering how we get our daily dose of dairy, regardless of whether you are a busy professional, a parent with a busy schedule, or just someone who values convenience. If you are also looking to use such an application for your milk delivery business, discuss your business with our industry experts.