White-Label Milk Delivery App – 6 reasons to have it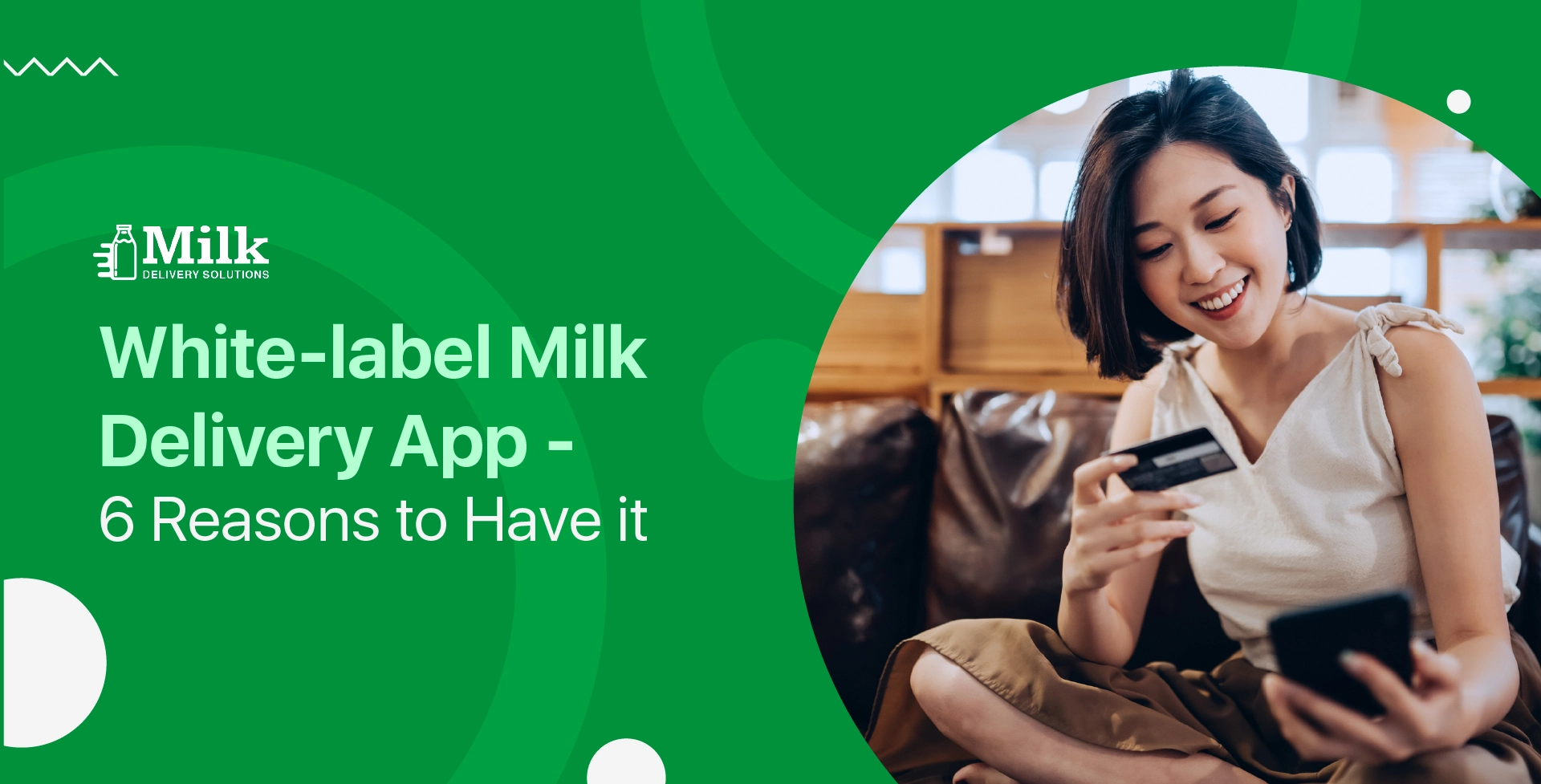 The dairy industry is changing technologically in the era of smartphones and on-demand services. A white-label milk delivery app is one of the most important innovations in this industry. These adaptable apps help dairy companies streamline their operations and keep up with the rising expectations of contemporary consumers.
In this article, we will look at six strong arguments for why dairy companies should invest in a white-label app.
Enhanced customer experience
Increasing customer satisfaction is one of the main justifications for purchasing a white-label delivery app. The ease of ordering milk and other dairy products with just a few taps on a smartphone app satisfies the modern consumer's demand for convenience.
You can offer a user-friendly interface with a white-label app, making it simple for customers to browse your product catalogue, place orders, and arrange deliveries. Customers can also specify preferences for the type of milk they want, how much they want, and how frequently they want it delivered, ensuring they get what they want when they want it. 
Streamlined ordering and payments
Apps that deliver milk under a white label offer simple ordering and payment methods. Customers can use the app to securely add items to their shopping carts, review their orders, and make payments. Customers will save time and effort because there will be no need for them to call or go to a physical store.
These apps frequently support a variety of payment options, such as credit cards, digital wallets, and even cash on delivery, to appeal to a wider range of users and their preferences. This convenience not only draws in new clients but also keeps old ones coming back.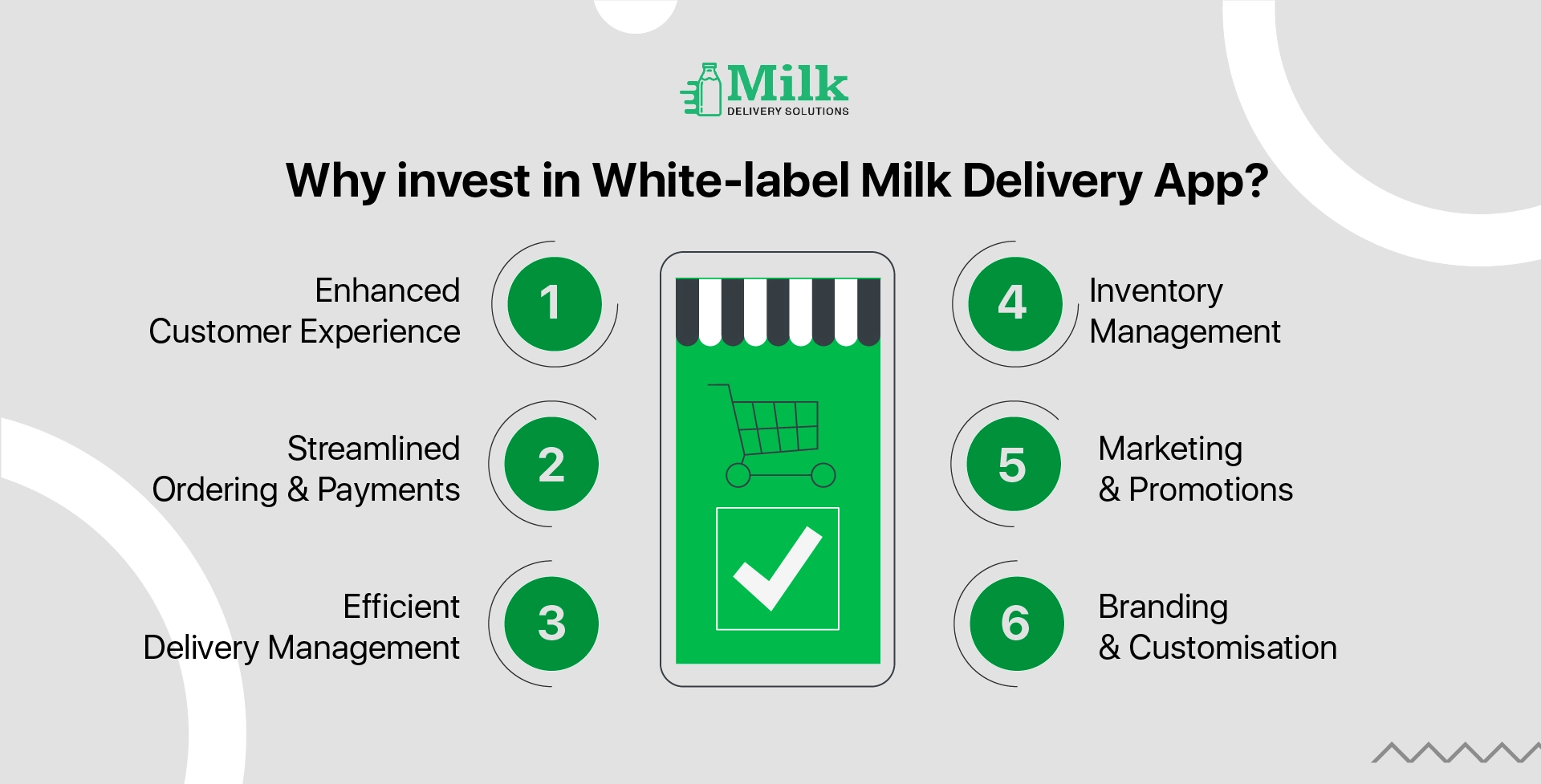 Efficient delivery management
Managing deliveries effectively is essential for any dairy business. You can assign orders to drivers, track deliveries in real-time, and optimise your delivery routes using an app. By doing this, delivery times are shortened in addition to fuel expenses, and the possibility of delivery-related mistakes being made is decreased.
Customers can also use the app to check on the status of their orders, get notifications about the expected delivery window, and even get in touch with the delivery driver directly if necessary. This degree of openness and communication encourages customer satisfaction and trust.
Inventory management
Dairy inventory management can be difficult, but an application makes it much easier. It updates product availability as orders are placed and deliveries are made, allowing you to keep track of your inventory in real-time.
This guarantees that you never run out of stock or have an excess of it, cutting down on waste and raising profits. Additionally, you can configure automatic alerts to inform you when specific products are getting low, enabling you to promptly restock.
Marketing and promotions
An app provides an effective marketing and advertising platform. Through push notifications or in-app messages, you can send specific promotions, discounts, and special offers to your customers. This boosts revenue and fosters client loyalty. 
Additionally, the app can gather important customer information, like purchase history and preferences, allowing you to specifically target your marketing efforts at different customer segments. Higher conversion rates result from personalised promotions and recommendations that are more likely to be well received by customers.
Branding and Customisation
The branding of white-label apps can be customised to match your company's identity. Your customers will have a consistent brand experience if you design the app to reflect your logo, colours, and messaging.
The features and capabilities of the app are also subject to customisation. Whether you choose to integrate loyalty programs or offer speciality products, you can add special features that are tailored to the particular requirements of your dairy business.

Conclusion
For dairy companies to succeed in the cutthroat market of today, White-labeled milk management software is a necessity. Along with improving the customer experience, it also streamlines business operations, increases productivity, and increases profitability. These apps meet the needs of contemporary customers who want convenience and dependability by offering a user-friendly platform for managing orders, payments, and deliveries.
Your dairy company's future is an investment in the system. In addition to fulfilling current customer expectations, it puts your company in a position to adjust to changing market trends and client preferences. You can give your customers a distinctive and memorable experience by being able to customise your branding and features, which will encourage loyalty and long-term success.
Adopting technology is not just a choice; it is a requirement for dairy businesses looking to thrive and remain competitive in the digital age in a world where technology continues to shape industries. Make the wise decision and invest in milk delivery management software right away to take advantage of the chance to transform your dairy business and satisfy modern consumer demands.