Factors to Consider While Picking Milk Management System
No matter what the size of your dairy business is! The increasing dairy product demand and changing customer habits require businesses to integrate the right management software that fits perfectly the usages of the business.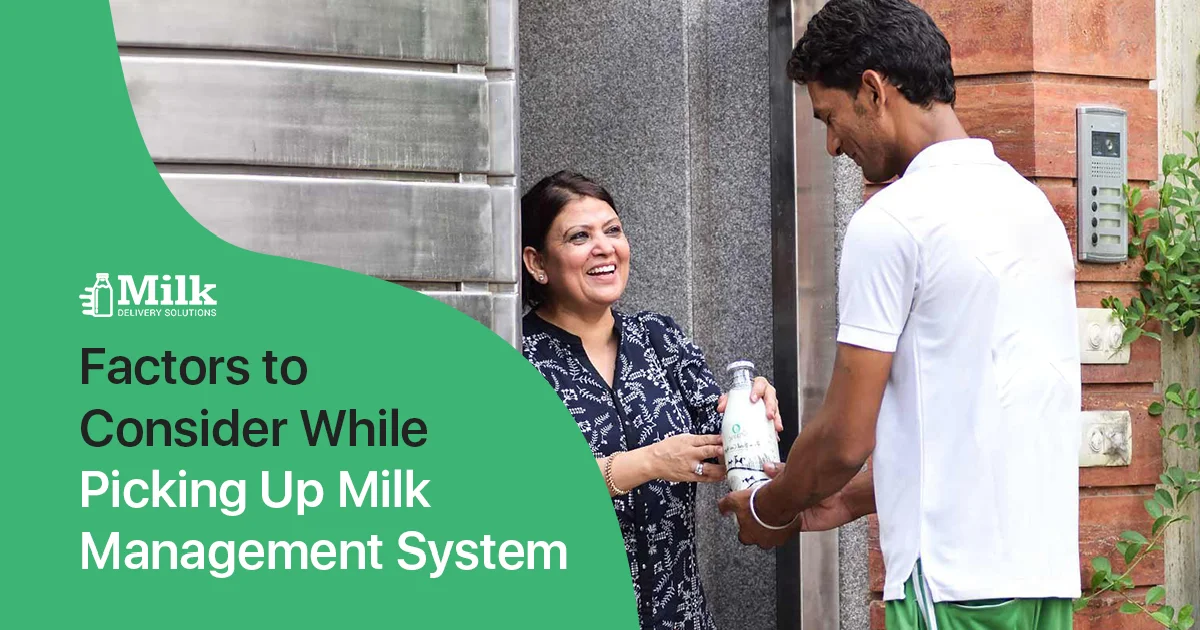 For example; if your business delivers milk in bottles, the management software should allow you to track and manage empty milk bottles. 
Many milk management systems are available online, making it vital for businesses to do their research and test out demos before making a choice.
In this blog, we are discussing the factors that should be considered by businesses while picking milk management software.
5 important aspects milk businesses should consider while picking a milk management software
Affordable and user-friendly- The software should be cost-effective and user-friendly. An expensive software might have features that you might not need or have higher monthly head costs. It should be easy to understand for not only business but also the customers and the drivers. Easy-to-use and well-executed interface increases the user experience and helps in increasing customer satisfaction scores and retention rates while decreasing the churn rate. 
Automated order management- The dairy management software should have an integrated order management system which automates the entire order management process. The process involves order acceptance, tracking, dispatching and order fulfilment. The system auto-generates order summaries and link-based invoices that are sent to the customers via email, sms and in-app notifications. The order status updates are auto-generating for customers as the order is placed, accepted, dispatched and delivered. 
Benefits of automated order management 
Removes manual order data entry and minimises the scope of errors.

Automation helps in faster order fulfilment

Customers can place, modify or cancel their one-time and subscription orders digitally which helps increase customer experience.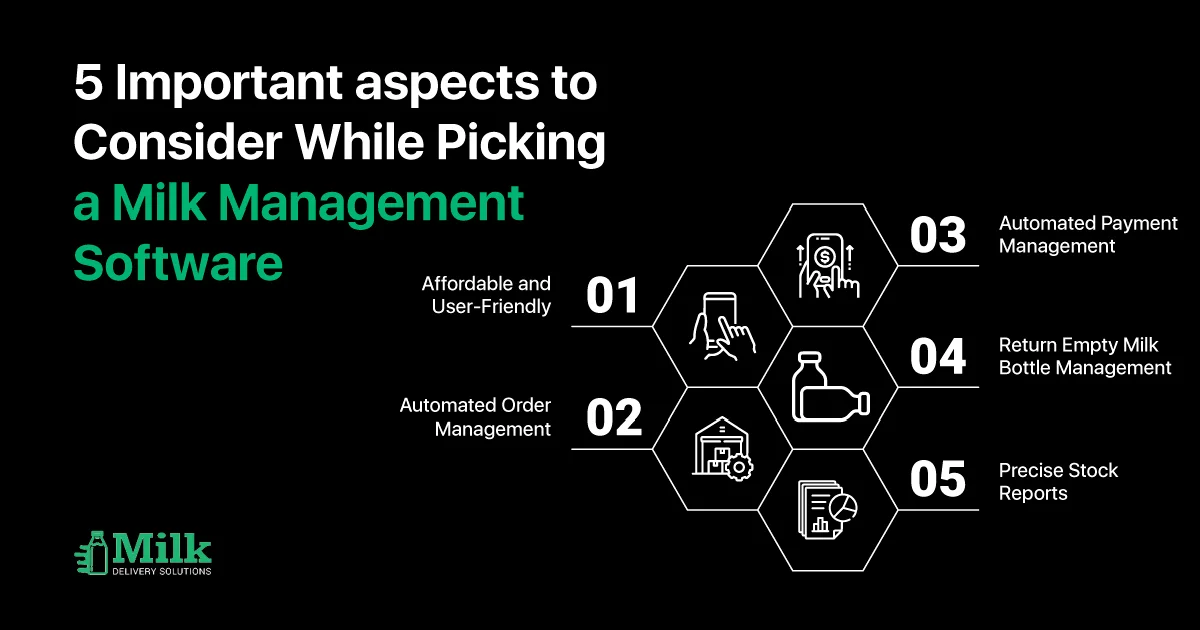 Automated payment management- The online milk management software integrates a payment management system which automates payment collection, recovery and reconciliation. The system offers multiple payment integration which gives flexibility to the customers for making either online (credit or debit cards, payment gateways, and wallets) or offline payments (via cash).
Benefits of automated payment management
Automatic paid and pending payment notifications improve positive cash flow.

Avoid payment disputes while payment reconciliation.

Promotes transparency between the customers and the business which improves customer satisfaction score.  
Return empty milk bottle management- If the dairy business delivers in glass bottles they should prefer milk management software that allows businesses to track and manage empty bottle returns. Having these reverse logistic features is very crucial when it comes to managing empty bottles. 
How does return empty bottle management help the dairy business? 
Prevents losses from misplacing the bottles

Drivers can enter the detail of the number of bottles given to the customer, returned and the number of bottles still with the customer. 
Precise stock reports– Managing stock in the perishable industry like dairy is very crucial. The software must be able to auto-generate stock reports which include data like stock present in the warehouse, the total stock that is needed to fulfil customer demand, and the extra stock that is required to be collected to fulfil future customer demand. 
How does stock management help the dairy business?
The software ensures that the business has sufficient stock.

Avoids losses due to overstocking and missing out on orders due to insufficient stock. 
The milk management software is an integrated suite that allows businesses to track and manage their entire dairy business operations starting from order placement to order fulfilment. The whole process is automated and streamlined which increases the efficiency and productivity of the business.
If you are interested in integrating a milk management system with your dairy business and seeing how can we be the right choice for you: Book a Meeting