How to Increase Revenue With Milk Round Software?
Milk round software is specially designed to automate the entire delivery process for businesses from drivers, orders, stocks, payment, billing, and customer management as well. So by freeing up the time you were earlier utilizing to plan routes, making calls to drivers, and picking customer calls, you can now majorly focus on other aspects of your business to drive higher revenue.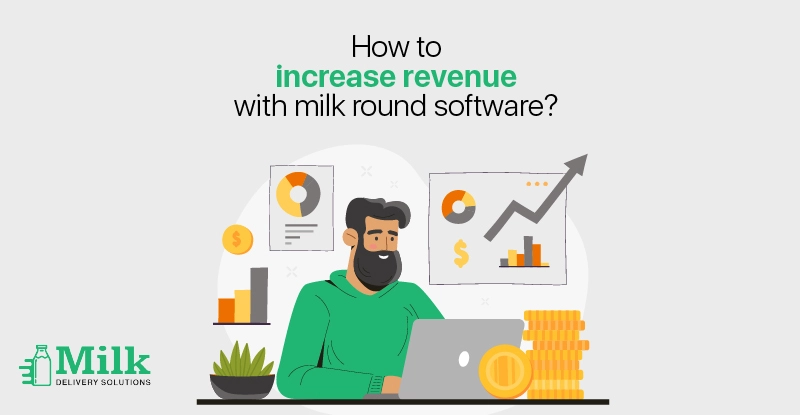 With the software, the communication gap is bridged between you and your customers allowing you to have a clear picture. This initiates a better planning process while retaining old customers and acquiring new ones. Feature of the software work towards improving your delivery efficiency and gaining more revenue
Reasons for using milk round software for high sales
Discount coupons can be offered:- Discount coupons are a way to boost revenue by luring customers. With the use of the coupons, customers can get an extra cashback in their account wallet. Customers get the privilege of earning extra money for a recharge which increases customer interest and hence increases sales and revenue. This will also work as verbal marketing in many cases where your customers would be the ones talking high of you and would recommend the product to their friends and family.
Subscription packages feature:-Subscription packages are a powerful way of bridging the gap between the customers and the diary owners by providing the orders and services on a daily basis. Availability of the option to avail of the product for more number of days to subscribe engages customers for a longer period of time.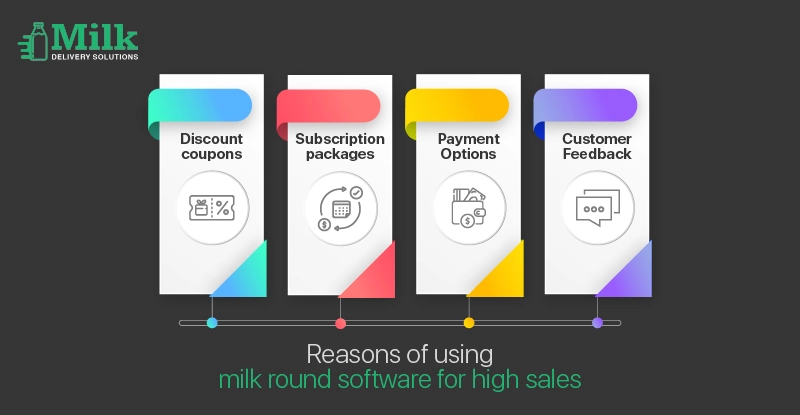 Multiple payment options:- Enhancing ease of usability is the major factor in this customer-centric era, where users these days seek various options to pay for orders, monthly bills, etc. The software thus offers various modes of payment to customers i.e cash on delivery, digital payment gateways, or Credit or debit through bank accounts. Providing a safe and easy way to pay boosts customer trust in your business
24*7 availability:-  Regular customer support is also one of the aspects that enhances customer experience where they can order anytime through the app instead of ordering via phone call or other contemporary methods. This will help in gaining customer trust which would reflect in the monthly sales of your business. The software provides full flexibility to customers to place an order at any time of the day and make changes whenever required.

Direct interaction with customers:- Direct contact with the customers is a really important aspect of a business. The main motive of direct interaction is to have a clear understanding of customer feedback. This feedback will help the vendors to improve the products and services which also helps to gain customer trust where their opinions matter.
Conclusion:-  With the Milk round software, it becomes very easy to scale and increase revenue. All the mandatory steps to increase the revenue are being provided by the Milk round software. So now every dairy business vendor can opt to switch to an online platform and scale up to new heights.