Milk Delivery App – Build Your Brand Loyalty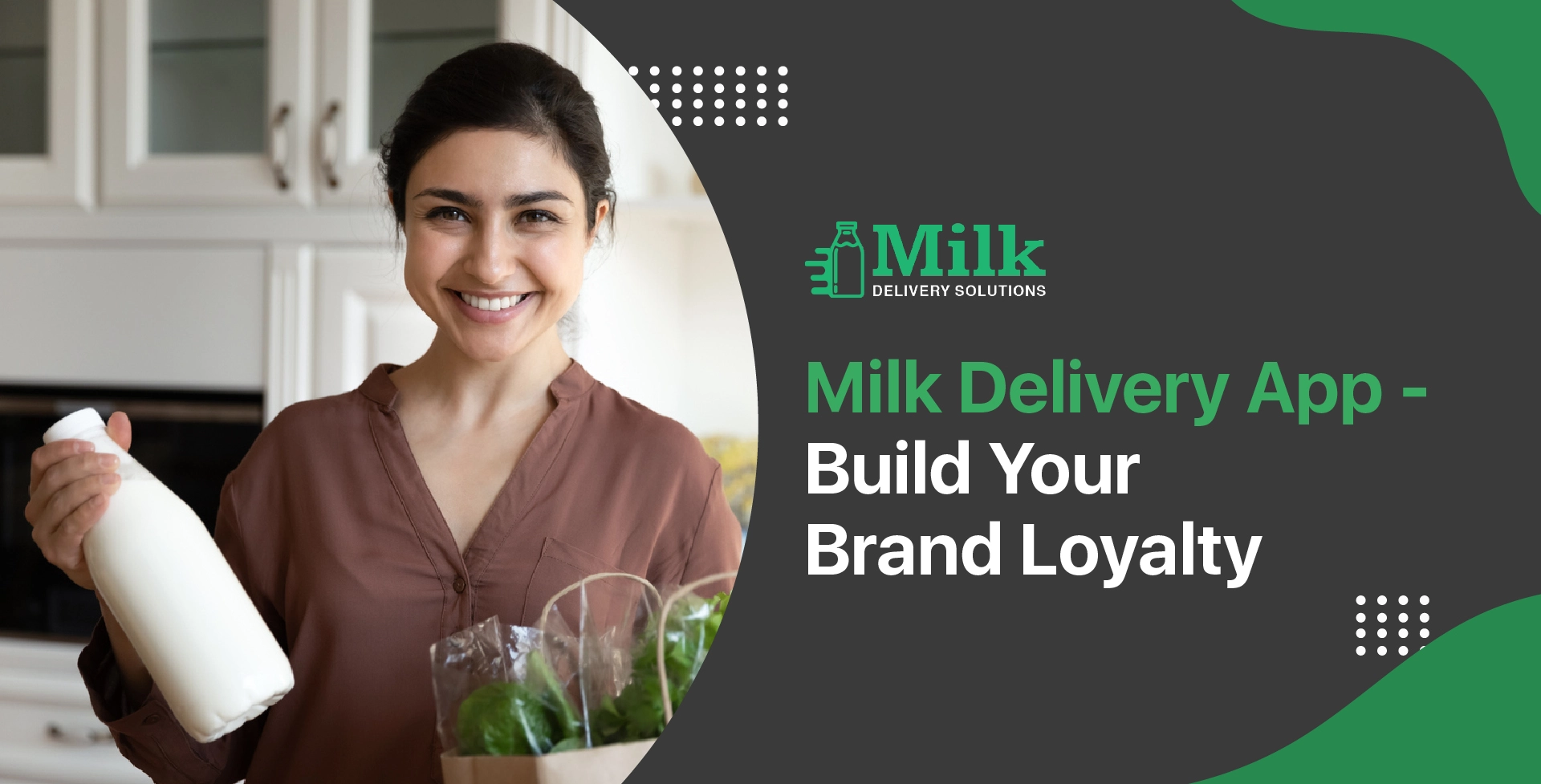 In the age of convenience and digitisation, milk delivery services have had to adapt to stay competitive. They have accomplished this, for example, by introducing milk delivery apps. These apps have increased customer convenience when ordering milk and help businesses build brand loyalty.
What is an application for milk delivery?
It is a customer interface available as a website or mobile/web application (Android and iOS) that allows customers to place, modify, and cancel orders. Customers can track their orders in real-time, make direct online payments, and access order history through an application.
In this blog, we will look at the potential of a customer app for milk delivery to increase customer loyalty and why it is crucial to the modern dairy industry.
Seamless ordering experience
With regards to keeping customers, convenience is essential. Customers can conveniently order their milk and dairy products using milk delivery apps. With just a few taps on their smartphones, customers can place orders whenever it is most convenient, whether early in the morning or late at night. Customers stick with your service because of how simple ordering is.
Additionally, the app can save their order history, which makes it even easier for them to reorder their preferred goods. They do not have to remember what they need or deal with the inconvenience of repeatedly dialling in their orders. The positive customer experience results from this level of convenience helps with customer loyalty.
Personalisation
Apps that deliver milk can gather information on customer preferences, including milk type, quantity, and frequency of deliveries. You can tailor the client experience using this information. For instance, if a customer frequently purchases organic milk, you could suggest additional organic dairy items they might like. This individualised approach demonstrates awareness of their needs and can increase their loyalty to your service.
Additionally, you can let clients set up automatic deliveries by their preferred schedule. It ensures that milk and dairy products get delivered at the right time when customers want them and increases their satisfaction and loyalty.
Real-time updates
Customer loyalty relies on effective communication, which milk delivery apps excel at. They make notifications and real-time updates possible to keep customers updated on their deliveries. Customers may be notified, for example, when a delivery is on the way, delayed, or delivered successfully.
These alerts enhance transparency and trust while also enhancing the customer experience. Customers value being informed and told when to expect their orders improves customer experience. It lessens worry about missed deliveries or unforeseen circumstances, which may result in higher retention rates.
Loyalty programs and rewards
Apps for milk delivery make great platforms for implementing reward systems and loyalty schemes. Customers can earn points for each purchase using your points-based system, which you can set up. Then, you can use these points to get special offers, gifts, or other benefits.
A loyalty program increases customer satisfaction and encourages repeat business. When they recognise the advantages of sticking with your service, they continue placing orders via your app.
Feedbacks and improvements
Customer feedback is essential for any company looking to enhance its offerings. Apps that deliver milk may have a feature that allows users to comment and rate their experiences. The criticism can pinpoint areas for development and make the necessary changes.
Customers value it when their opinions are taken into consideration and implemented. You gain their trust and solidify your relationship by demonstrating that you value their opinions. Higher customer retention rates are the result of this.
Customer support
Apps that deliver milk may also include customer service options like live chat or on-call. Customers can get help if they run into problems with their orders or have any other questions. A powerful tool for keeping customers is prompt and helpful customer support.
Customers stick with your service if they feel confident that your support staff will address their issues. A positive experience recreated from a potentially bad one with excellent customer service strengthens the consumer's loyalty to your brand.
Environmental Initiatives
Today's customers value companies that share their values and are concerned about the environment. Using milk delivery apps, you can promote your sustainability efforts and projects, like supporting regional farmers or reducing plastic waste using reusable containers.
Customers think favourably of your brand and stay with your service when they see your dedication to sustainability and ethical business practices.
Customer loyalty is a crucial factor in the sustained success of milk delivery businesses.
By offering convenience, personalisation, communication, loyalty programs, feedback channels, customer support, and a platform to highlight your sustainability efforts, milk delivery apps are a potent tool to increase brand loyalty among their customers.
Putting money into a milk delivery app that prioritises the customer experience can help you forge closer bonds with your clients and guarantee that they keep choosing your service over rivals. A  well-designed milk delivery app is more than just a practicality; it is also a tactic for improving brand loyalty that can help your dairy business flourish in the current digital era. If you are also looking forward to adopting strategies that improve customer loyalty but don't know where to start, book a brief call with our industry experts.