Mobile App For Dairy Milk Delivery – Simplify Customer Experience
Technological advancements have left the days behind when customers used to rush to grocery stores to buy milk. Customers can now directly order from a mobile app for dairy milk delivery used by businesses that provide online milk delivery services straight to their doorsteps.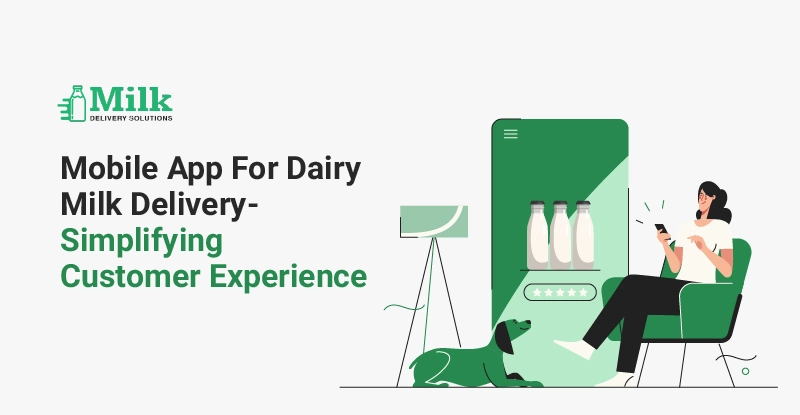 In this blog post, we will explore how ‌apps are simplifying the lives of dairy customers and enhancing their overall experience.
Ways to enhance customer experience with an ordering application 
Easy ordering process
The application is an ordering platform that is user-friendly and allows customers to browse through all the milk products available, select preferences, and place orders in just a few clicks. Customers can select the schedule for their order delivery that is predefined by vendors. The app allows customers to modify, pause, and cancel orders hassle-free saving them time and effort. 
Flexible delivery scheduling
Customers can choose their preferred delivery schedules, which are predefined by the vendor. Customers can choose the frequency of deliveries and set their preferences according to their consumption. This removes the chances of running out of milk and guarantees a continuous supply of milk at a set frequency, saving customers from the inconvenience of last-minute store runs.  
Contactless delivery
Contactless deliveries have become popular, especially after the COVID-19 pandemic. Rising health concerns among customers have pushed milk delivery businesses to prioritise contactless delivery options. Customers can choose and add delivery instructions like leaving the milk at the doorstep or in a defined safe spot. This makes sure the safety and convenience of customers but also aligns with social distancing guidelines. 
Personalization
Offering an app allows vendors to add product categories and their subcategories from the backend. Customers can choose different milk products- like curd, and cheese; different types of milk like whole, skim, lactose-free, etc. Providing such customisation makes sure that customers receive what exactly they need and are looking for, which enhances their customer satisfaction.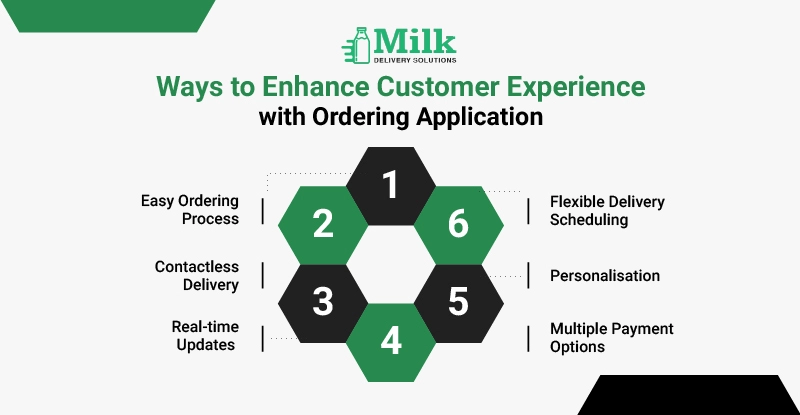 Real-time updates
The online milk management system keeps customers informed throughout the delivery process, providing them with real-time updates on order status, estimated delivery times, and delivery notifications. Customers can track their deliveries, stay informed about any changes, and adjust their schedules accordingly. These updates allow customers to plan their day efficiently, providing a smooth and seamless milk delivery experience.  
Multiple payment options
The online milk management system offers multiple payment methods, which include secure online payments, digital wallets, or cash-on-delivery options. Customers can make their payment methods, making the transaction process seamless and convenient, removing the need for handling cash or worrying about exact changes during delivery.   
Milk delivery apps are transforming ways in which dairy customers access fresh milk. By simplifying the ordering process, offering flexible delivery schedules, providing contactless delivery options, enabling personalization, delivering real-time updates, and offering seamless payment options, these apps make life easier for dairy customers. 
Hiring a milk online delivery app development company can help you create a suitable application that meets your business requirements. Feel free to book a meeting and discuss your requirements and see how we can help your business.