The Benefits of Dairy Milk Management Software
Dairy software is a full package solution for the dairy industry that is effective and efficient for businesses looking for a world-class solution that is specific to their sector and can be implemented quickly. It increases efficiency by decreasing inventory for products with a longer shelf life.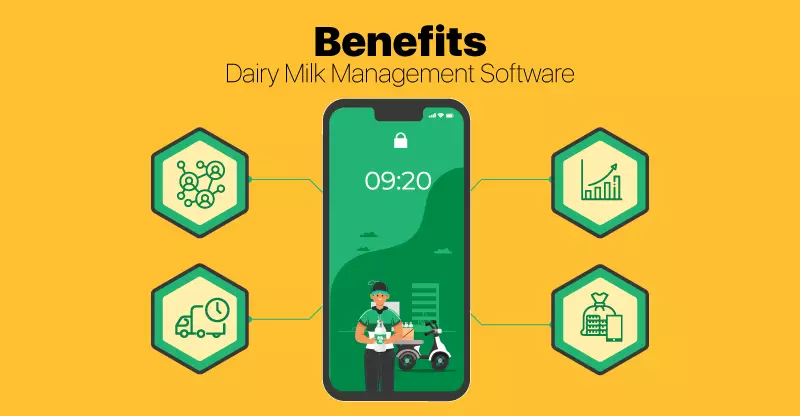 Dairy Milk Management Software has become a must-have for dairy owners, as well as milk distributing and manufacturing companies, but HOW?
To Know, Read the following points..

What Are the Benefits of Dairy Management Software for Dairy Farmers?
Dairy farmers may make use of the best dairy management software in a variety of ways.
It Helps In Accelerating the Revenue and Ultimately Profits
Whether you're a dairy farmer, a fabric trader, or a restaurant owner, you must follow market trends. And developing online software is a trend that no one can avoid. This is due to the fact that many individuals prefer to receive services by just clicking a few times on a screen. Milk is one of the most basic commodities that everyone requires on their own time schedule. The milk is delivered to the customer's specified location via internet solutions. Getting more orders from clients in less time would automatically boost sales and revenue.
The Best Way to Connect with Customers Online
Every service provider prefers to employ a system that increases client engagement and, as a result, allows customers to get more services in less time. As a result, with the support of milk online delivery possibilities, clients can be readily connected and the team can be grown.
Easy to Manage Whole Business-
In the business sector, any solution that aids in bettering management is always welcomed. Production, delivery methods, distribution routes, number of customers, safeguarding and storing customer information, delivery specialists, money made in a day or month, and other items can all be seen on a single screen by the owner.
Increase your milk delivery business's
ROI
Automate complete delivery process &
save the extra costs.
To be able to make payments online-
Receiving payments online via multiple payment methods is a wonderful thing for a business owner to have. Various online mobile payment gateways, credit cards, debit cards, and other payment alternatives may be available. As a result, this functionality can be utilized to easily decrease payment-related inconsistencies.
To conclude, If you want to build a milk delivery app for your dairy business. Then, Building your own milk delivery app software itself is a very appreciative move and due to its diverse features and benefits, dairy owners now prefer to own them globally.