Why Invest in Milk Delivery Mobile App?
Technology is expanding by leaps and bounds and reaching into every corner of the globe. Consider how far technology has progressed in the milk delivery industry, allowing people to have fresh milk and milk products delivered to their door.
So, if you live alone or work a typical office job, you don't have to worry because there are several milk delivery apps available to help you out.
The app allows you to register, enter your location, place simple orders, make quick payments, and have milk delivered to your door early in the morning. Yes, it is that easy.
Why Should You Invest in Milk Delivery Mobile App Development?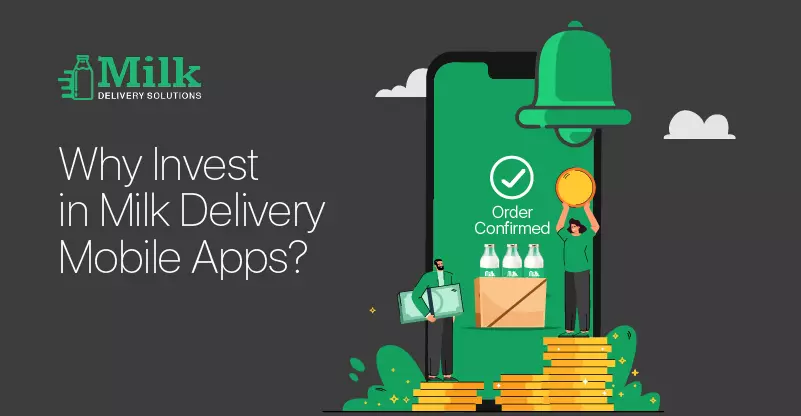 The food industry is currently expanding at a rapid pace, and sales are expected to reach $869 billion by 2023, according to reports.
Currently, there are three or four major players in the milk delivery service industry in major Indian cities: Doodhwala, Supr Daily, and MilkBasket, with many more on the way. In fact, Swiggy has expressed a strong desire to invest $100 million in Supr Daily's subscription-based delivery service.
The main reason for the popularity of these apps is that millennials prefer to order things online rather than visit physical stores. So, if you want to get into this business, don't wait any longer and contact a milk delivery app development company today to begin the app-creation process.
How is Milk Delivery Management Software useful for Dairy farms?
Why Are Milk Delivery Mobile Apps Getting So Popular?
Milk delivery apps are popular among consumers for a variety of reasons, including
Customers will find it easier to do business with them: Customers like the idea of being able to easily place orders and have them delivered on time.
Makes Life Easier for Dairy Companies: The app also provides a lot of convenience to dairy companies because of how it structures everything, as there is an app that will manage everything, such as receiving orders and allowing easy payments.
Achieving the Optimal Demand-Supply Balance: Dairy businesses can manage optimal demand and supply because they are constantly aware of the number of orders.
How Does the Milk Delivery Mobile App's Business Model Work?
The user only needs to sign up to get started, which requires their email address or phone number, and then they can sign in to the app as needed by entering their credentials. Users' profiles are created as soon as they sign up for the app.
After signing in, the user can browse a wide range of milk and its products, select the ones they require and place their order. It is critical that app users enter their delivery address so that their app orders can be delivered as soon as possible. After selecting the items, users can pay online by recharging their app wallet and making secure payments.

Increase your milk delivery business's
ROI
Automate complete delivery process &
save the extra costs.
Conclusion- 
I hope this article has provided you with a thorough understanding of milk delivery mobile app development.
It's a good idea to consider investing in the development of such on-demand apps because people are interested in using such apps in this digitalized era.
If you are interested in having a milk delivery app built, you can Book a free demo with us to learn more.